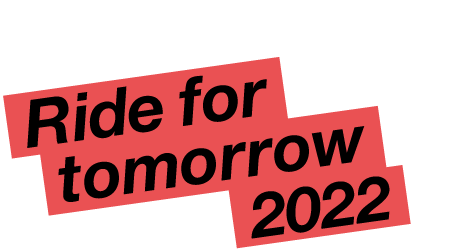 Frequently asked questions
General
What is Ride for tomorrow 2022?
Ride for tomorrow 2022 is a virtual cycling challenge happening this September. Pledge to ride 110, 250 or 423 miles during September and get friends and family to sponsor you to help create a better tomorrow for people hit hardest by climate change.
Registrations will open in summer 2022. You can register your interest here.
Registrations will open in summer 2022. You can register your interest here.
All you have to do is sign up and a JustGiving fundraising page will be created for you. You can manually log your rides throughout May, or edit your page to connect to your Strava account and your activity will be uploaded automatically. Friends, family and colleagues can sponsor you online through your fundraising page, so make sure you share the link!
Why are the distance options 110, 250 or 423 miles?
This month…
1.1 million people could be pushed into poverty by climate change.
2.5 million people could be forced to leave their homes due to climate-related disasters like storms, floods and wildfires.
423,000 lives could be lost due to extreme heat or cold.
That's why we're challenging you to ride 110, 250, or 423 miles this September, to support communities on the climate frontline.
However, you can also choose to set your own distance if you prefer, and can change your target at any time by editing your JustGiving page.
Is there a registration fee?
No, it's free to register! We ask that you aim to raise £150, but you can set your fundraising target to whatever you like.
Can I take part in a team?
Yes! You can create or join a cycling team when you register. You can also create or join a team at any time by going to your individual fundraising page, clicking 'Edit page' and navigating to the Team tab.
What are COVID-19 safety measures?
We encourage you to keep up to date with the latest government guidance and take part in Ride for Tomorrow if safe to do so. Feel free to get creative and take part in your own way - why not do a home workout instead and count every 10 minutes as 1 mile? Or if you own an indoor exercise bike, hop on that to work towards your target.
Can I adapt the challenge to suit my needs?
We want Ride for Tomorrow to be accessible to everyone who wants to take part. Please feel free to adapt the challenge to suit any injury or disability you have - for example changing your distance, type of activity or using particular equipment to support you. If you would like to speak to us about this, please get in touch at RideForTomorrow@redcross.org.uk.
How will my money be used?
The money you raise will help us support people hit hardest by the changing climate.
Red Cross teams are working on the ground in 192 countries – from creating early-warning systems, to helping to rebuild after disasters, using innovative technology and providing vital training, so that people are healthy, safe and can provide for their families.
You'll be cycling to help build stronger, more resilient communities, ready to face whatever tomorrow brings.
Where do the statistics in the distance options come from?
The figures we have used to create our challenge targets come from research published by multiple sources, including IFRC, the World Bank and The Lancet journal. The statistics are monthly averages calculated from longer timeframes and so may not reflect the specific impacts of climate change on people this month.
1.1m - Unchecked, climate change will push up to 130 million people into poverty over the next 10 years. (World Bank)
2.5m - 30 million people were displaced due to climate-related disasters in 2019. (IFRC)
423,000 - 5 083 173 deaths were associated with non-optimal temperatures per year 2009-2019. (The Lancet)
Under 18s are able to take part but we ask they register with a parent/guardian as there are terms and conditions to approve.
Fundraising
How much do I need to raise?
We ask that you aim to raise £150, but you can set your fundraising target to whatever you like. Remember - there are rewards for hitting certain milestones! You can change your fundraising target at any time by editing your JustGiving page.
How do I pay my sponsorship in?
When you register, a JustGiving fundraising page will be created for you. This is the easiest way to fundraise, as all donations from your online JustGiving page come to us automatically - you don't need to do anything at all!
If you prefer to collect donations another way, click here to find out how to pay them in.
How do the thank you gifts work?
There's no need to contact us to claim your reward. We'll keep an eye on how much you've raised and after Ride for tomorrow is over we'll let you know if we'll be sending you a reward. You'll receive the highest-value item which you are eligible for. If you have any questions, would like to change your postal address or would like to opt out of receiving a reward, please contact RideForTomorrow@redcross.org.uk.
Are the thank you gifts sustainable and ethical?
We have been careful to make sure that our thank you gifts won't be damaging to the planet or the people who live on it. Some have been kindly donated to us or procured at a discount, so we can make sure the money you raise is going to the people who need it.
80Noir sources 100% sustainable cocoa, reinvesting in programs to empower cocoa farmers and their communities.
Grand Tour Coffee Co's freshly ground Rouler blend is fair trade and fair pay. 
Roadsalt bath soak is fully organic and natural. All packaging is recyclable.
All products are suitable for vegans and contain no nuts. However, the 80Noir Endurance booster bar is not suitable for soy allergy sufferers.
Want to fundraise offline?
Not a problem! You can find useful materials here to help make your offline fundraising a success.
Tracking
How can I connect my Strava account?
If you are logged into JustGiving you should see a button on your fundraising page that says "Connect to Strava" to login, or register if you do not already have an existing account.
Can I log my activity manually?
Yes! If you can't connect your tracking device or aren't using one, you can keep track of your activity any way you like and add it manually to your profile.
I don't have a smartphone, can I still take part?
Yes! You can still set up your supporter page and add runs manually on your fundraising page. From the 1st September you'll be able to log into your page and 'add fitness' onto the feed there, allowing your supporters to see your progress.
What if I forget to track my miles?
Don't worry, you can add your miles manually to your fundraising page later on and the distance will still be logged. This will be possible from the 1st September.
Cycling jersey
Where can I buy a Ride for Tomorrow cycling jersey?
You can purchase an exclusive Ride for Tomorrow cycling jersey, made from 100% sustainable materials here.
Help
For any technical issues with your JustGiving fundraising page, you can get help from help@justgiving.com or by using the JustGiving live chat.  For questions about the event or support with your fundraising, we're here to help at RideForTomorrow@redcross.org.uk Mon-Fri 9am-5pm.
Are you up for the challenge?